New Bishop Install for Diocese of Gizo



Catholic Diocese of Gizo now has a new Bishop, Most Rev. Bishop Peter Houhou who was installed at St. Peter Cathedral Gizo on Sunday 27th of August 2023 by the Nuncio, His Excellency, Most Reverend Archbishop Fermin Emilio Sosa Rodriguez.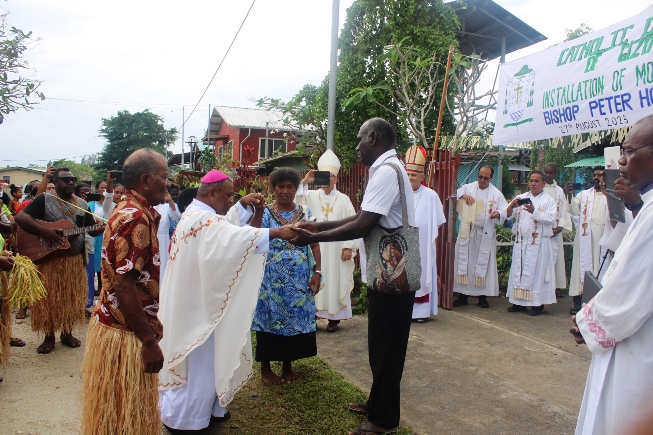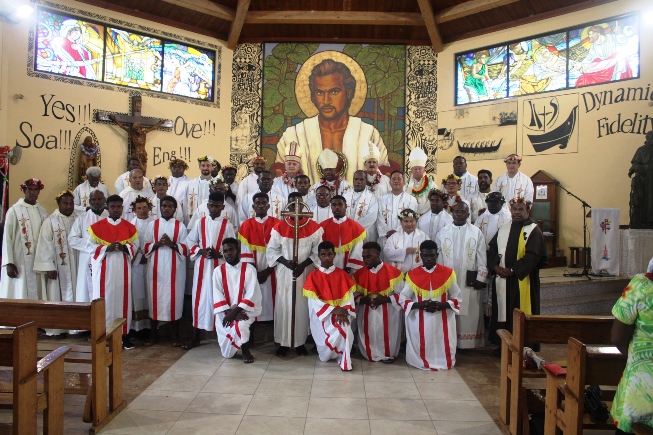 The installation ceremony commenced with a customary handing over of Bishop Peter Houhou to the Diocese of Gizo, which was witnessed by Archbishops, Bishops, Clergies, Religious Sisters and Brothers, guests, church representatives, the Premier of the Western Province, parishioners, relatives, family members, friends and the public.


This was followed by a beautiful and colorful Eucharistic celebration that involved children, youths, and everyone who took part in beautifying the celebration.
Part of the installation was His Excellency Most Reverend Archbishop Fermin E. Sosa Rodriguez, the Pope's representative (Nuncio) revealed the Pope's letter of acceptance of Bishop Peter Houhou as the new bishop for the Diocese of Gizo.
The main celebrant during the installation was Archbishop Christopher Cardone OP who handed over the crosier to Bishop Peter Houhou symbolizing his pastoral mission commencement for the diocese.
The celebration continued after the Eucharistic Mass, highlighting speeches, feasting, and entertainment.


For the speeches, the first speaker was the Vicar General for the Diocese of Gizo, Fr. Steven Te'e. He expressed his acknowledgment to His Emeritus Bishop Luciano Capelli SDB for the past 16 years serving the diocese in terms of rehabilitation (earthquake and tsunami), infrastructures and on pastorals.
The Nuncio also thanked Bishop Luciano Capelli SDB for the services he rendered for the people of the diocese and as well for the nation.
In his reply, the retired bishop, His Emeritus Bishop Luciano Capelli SDB reminded everyone of the first missionaries who planted the church; the spirit of the Gospel and the spirit of the kingdom, and he asked everyone to join the new bishop in serving the church of God.
A beautiful remark also came from the new bishop of the Diocese of Gizo, Bishop Peter Houhou who acknowledged everyone for their presence.
He said that it is a great event and a kind of manifestation of everyone's faith and love for our beloved Catholic faith, and acknowledged everyone's presence during his installment.
He also thanked beloved bishop, His Emeritus Bishop Luciano Capelli SDB for the past 16 years for shepherding the Diocese of Gizo and for the great work he had done in building the Diocese.
The program concluded with entertainment from various groups around the diocese with the final blessing from the new bishop.