Bishop Luciano Capelli sdb
"Lift up your hearts and all will be fine"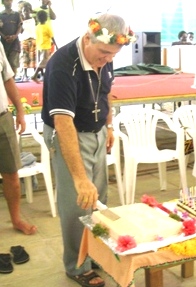 Luciano Don Capelli was born in Tirano (So) Italy on October 19th, !947. He attended primary school at Cologna di Tirano– Sondrio and went to high school at instituto Salesiano Montodine, in 1961.
He did his pre– aspirantate year in 1960-1961 and he went to instituto Salesiano San Bernardo for his aspiratate year. He did his novitiate at Missiagila Como from 1964– 1965 and made his first profession on August 16th, 1965.
From 1965– 1971 he was in the Philippines. He obtained his Bachelor Degree in Education– Philosophy studies in 1968, work as Biology instructor for Don Bosco Technical College of Engineering in 1969– 1970. Then in early 1971 he obtained Perpetual Profession and was a Classical Latin teacher in Don Bosco Seminary college.
In 1972 he returned to Italy to study theological studies at Instituto teologico Sam Tommaso. He was ordained a Deacon on December 10, 1974 at Sondrio. He completed his theological studies at 1975 in which he obtained his Bachelor Degree in theology. He was ordained a Priest in June 28, 1975 at Cologna di Tirano Sodrio (Italy).
In 1975 he went back to the Philippines and worked there until 1999. During those times, In 1976 to 1977 he was a Youth Center director for Don Bosco Technical College of Engineering. From 1977—1982 he become a Spiritual Director for Don Bosco Technical College of Engineering. In 1982 he was Rector for Don Bosco Technical institute at Tarlac, Philippians.
From !985 to 1991, he went for further studies and obtained his masters Degree in Education at Saint Joseph college of Graduate School, Manila. He was also Rector of Don Bosco Technical College of Engineering.
In 1991 to 1992 Bishop Luciano Capelli was Rector of Don Bosco Hall, for the boarding house for university Students in the Philippines. IFrom1992 to 1993 Bishop Capelli become a provincial council member and from 1993 to 1999 he was the Provincial for Manila and Papua New Guinea.
He came to the Solomons in 1999 as Rector for Don Technical Institute at Henderson in Honiara and this continued until 2007.
He was ordained Bishop of Gizo on October 21st , 2007 at Gizo by His Eminence Cardinal Joseph Zen– Cardinal of China.