Two general superior sisters visit Nusabaruku.
Two general superior sisters (mother General Maddalena and her vicar Noemi) from the congregation of the Servants of the Visitation visited our Diocese from February 22 up to march 1. The visited Gizo, Loga, Vanga, Fishing Village and Nusabaruka.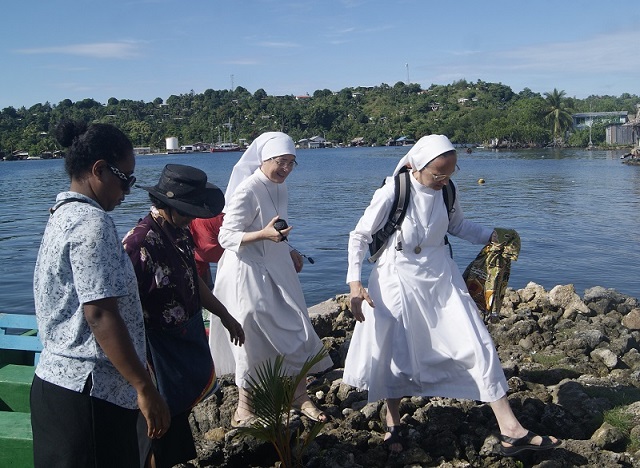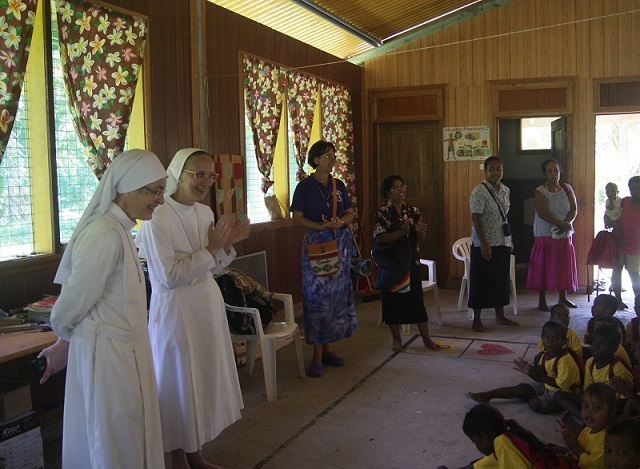 They are happy to come and stay in Nusabaruka, with the people to assist them in their needs. They will send Two sisters in September (one nurse and one teacher) and two more in January 2019.
They showed us an example of joy, humility and availability to be with the poor and help them like Mary as she visited Elisabeth.
The fear of the 29 Bouganvilleans around Gizo did not stop them from visiting the people. Sr. Noemi and Sr. Maddalena were very glad to visit the children and their teachers.
The Sisters told the children that they are like Mary, live like Mary and travel like Mary to visit far away communities. They said that when they arrived here they found joy and happiness, as Mary was filled with joy when she visited Elizabeth.
Accompanying them were the three Salesian Sisters: Anna, Regina and Joana (FMA) who now run the St. Peter's Urban training center in Gizo.
And help out at the St Peter Kindy
We have much to thank God for: as the Dominican Sisters seem to be slowing down in their presence, God is enriching our diocese with three new congregations, of of religious men (the Incarnate Word) and two of religious women (Don Bosco Sisters and Servants of the Visitation)