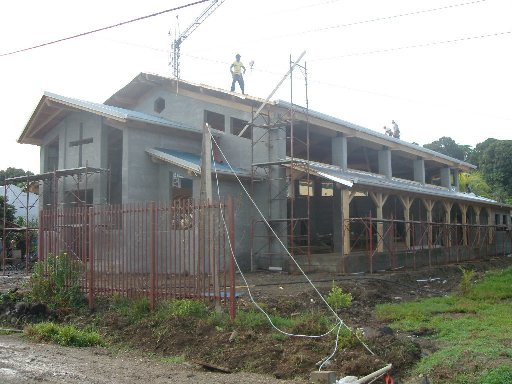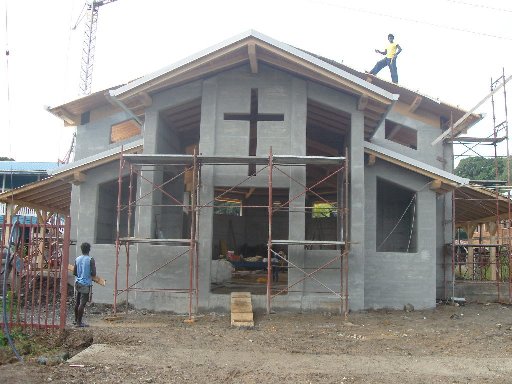 Radio Happy Lagoon interviewed our Bishop, Most Rev, Bishop Capelli on the 22nd January about the church building.
During the interview, Bishop Capelli said, the reconstruction work was carried out after the major structure of the old church building was damaged by the April 2007 Tsunami and earthquake that devasted parts of Western and Choiseul Provinces. The church started to be demolished on November and by December we begin to rebuild the church. Bishop said, the sitting capacity will about 360, then on both sides sits.
Bishop Luciano said, "actually the church is almost the same as the old cathedral, it will have double roofing on top and on both sides. It will look  in style to give a homely touch.
"Funding for the church was made possible through the efforts of many people including Bishop Chris Cardone with his friends from the United States, Bishop Capelli and friends from Italy, the volunteers and the people from the Diocese. He said, "it was a community effort which almost totaled up to $1 million Solomon dollars.
Bishop Capelli said , "The same volunteers, architects, leading men and people who built Don Bosco school and mini-hospital at Tetere came here to help us rebuild our church. They financed themselves. That is the true spirit of  the volunteer".
Bishop Luciano said, the great thing that is happening in our church is the renewal of the people and the ability to cope uwith the tragedy of the Tsunami, but the most important aspect is to stick close to the people in their needs for their daily livelihood. So after we did that for 1 year we started to return to church work in the second year.
Bishop Capelli said, "The best message from this church building is, we have to learn to be volunteers. These volunteers are here just to help us, and they should inspire us to go back to our Melanesian values of community work. So let us put aside some of our time to build our community. Let's not ask what the church can do for us, but what we can do for the church and for our society to make it a better world"